I have been finding a lot of interesting ways to make wine "fashionable" in your own home!  Not only do the "cork candles" in wine bottles (featured in earlier post) make for a great display and add a semi rustic feel to your home, I have also stumbled on a few other items related to wine and it's paraphernalia that serve as great storage spaces or even just add that extra spice of character to a room.  Check out some below!
From Apartment Therapy (an apartment fix online blog) – Wine Crate Shelving for the Bathroom!
Urban Outfitters also carries this cool/vintage looking "Pop Shop Shelf" that most likely didn't carry wine at one time but is smaller than the above.  Great for the kitchen!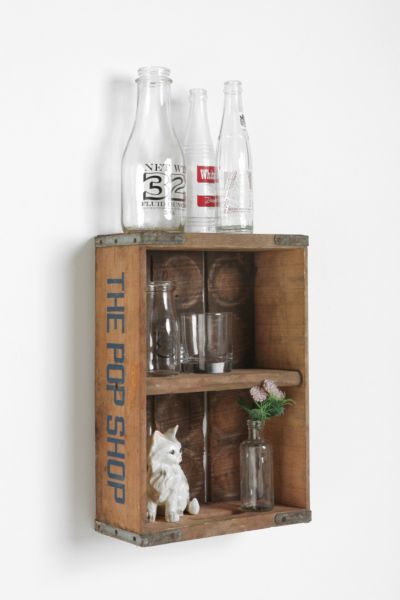 Again on Apartment Therapy, celebrate spring with an outdoor picnic with fun place card holders made from corks!
When we moved into our apartment, the wine lovers that we are, we started a collection of unique and special wine bottles and placed them nicely above our kitchen and dining "room" (more like an alcove
)
Display your corks in a candy jar!  It's almost warm weather, better to have wine corks in there then candy!!!!